Dione is Here to Stay!
The latest addition to the Neighbours cast is Madeleine West, who plays Dione Bliss. Madeleine was initially only signed to appear for a week, but she impressed producers enough to become a more long term guest as the story of Dione's relationship with Joel Samuels developed. Now Madeleine has become a permanent cast member we can expect to see many more storylines involving Dione in the coming months.
Taken, with permission, from
http://www.baxendale.u-net.com/ramsayst/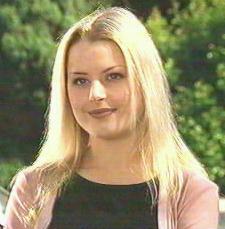 ---
Neighbours New Addition
Madeleine West is one girl who knows how to make the best of her opportunities. Initially signed to Neighbours for just one week, pretty Madeleine, who plays Dione Bliss, has now been invited to become a regular cast member. This should also be good news for her on-screen love interest, Joel (played by Daniel MacPherson) who hasn't had a serious romance in the show up till now.
"It's a dream come true for me" Madeleine says. "I've been a big fan of Neighbours ever since I was little, and I can't believe I am now part of the cast."